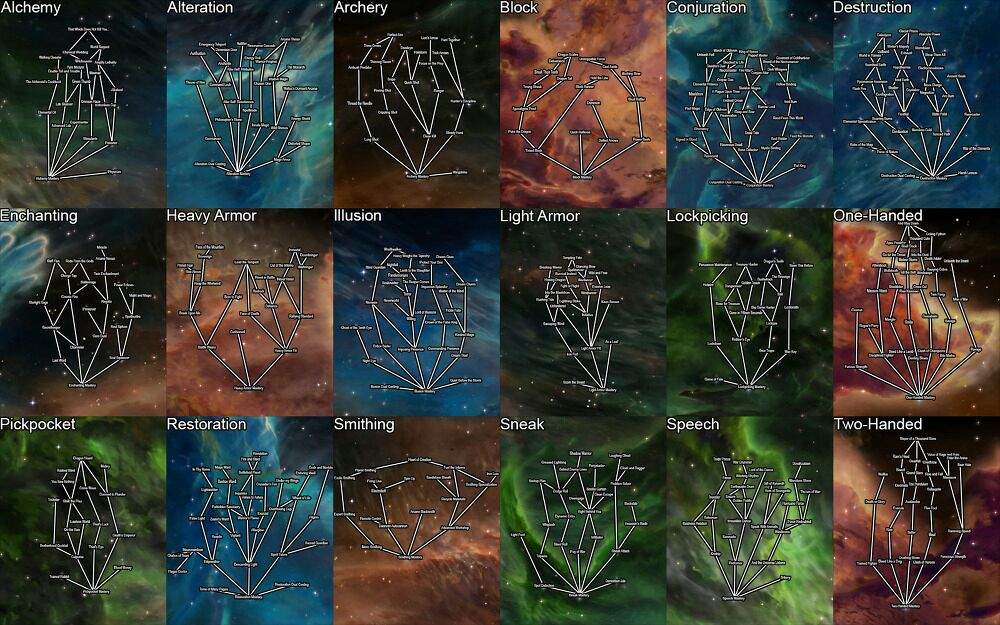 Ordinator Tips and Tricks
          Greetings, sera. Blackblood here. I'm certain a fair number of you all are using one of the most popular overhaul mods on the internet, Ordinator - Perks of Skyrim by EnaiSiaion.  I've recently managed to max out my Alchemy skill tree in that mod (because Damage Magicka Regen poisons are RIDICULOUSLY expensive!!), and seeing as I had a good surplus of extra perk points I decided to experiment with some of the perks I'd never used before. One of those perks was Witchmaster, and believe me when I say: "There's some fucked up shit in there!"
          Thus I decided to experiment. I saw there were no guides to the effects of Witchmaster (that "I" saw anyways), so I decided to put around 400 Yellow Mountain Flowers in my inventory and just swallow them all. There are 40 effects in all, with an incredibly varying degree in usefulness, sporting several effects that benefit just about every single playstyle in some way. And since I figured it would be useful to someone taking Alchemy.
          But then I thought to myself "Why stop there?", and decided to make this not just about Alchemy, but about just about every skill tree in Ordinator. So that's what I'm gonna do.
          This thread is mean't to compile a list of unusual or complex perks found in the mod and describe them in a way that helps you come to understand it a bit better than the descriptions do. Now, this list is very much still a WIP, but as I play through the game I hope to add some more information on the various quirks and interactions found within this mod. Also, if you've got a tip or trick you'd like to add to this list feel free to share. This is an open source aimed at helping others create characters with this mod. And so without further ado, let's dive in shall we?
Alchemy
::Witchmaster Effects::
- +150 Health [60s]
- +150 Stamina [60s]
- +150 Magicka [60s]
- 10% Health Regen [60s]
- 10% Magicka Regen [60s]
- 10% Stamina Regen [60s]
- Infinite Health [15s]
- Infinite Magicka [15s]
- Infinite Stamina [15s]
- 50% Resist Fire [60s]
- 50% Resist Frost [60s]
- 50% Resist Shock [60s]
- 50% Resist Poison [60s]
- 50% Resist Disease [60s]
- +25% Attack Damage [60s]
- +50% Critical Damage [60s]
- +200 Armor [60s]
- +50 Carry Weight [600s]
- +50% Scroll Effectiveness [60s]
- +20 Poison use to poisons applied within 30s
- x2 Critical Chance [30s]
- x2 Sneak Attack Damage [30s]
- x2 Sneak Effectiveness [30s]
- x2 Health/Magicka/Stamina Potion Effects [30s]
- x2 Experience [60s]
- x2 Healing [60s]
- x4 Weapon Damage [15s]
- x4 Bash Damage [15s]
- x4 Magic Potency [15s]
- x4 Witchmaster Side Effect Duration [60s]
- Free Power Attacks [30s]
- Free Enchantments [30s]
- Free Spells [30s]
- Free Shouts [30s]
- Ignore Armor [60s]
- Physical Immunity [10s]
- Stagger Immunity [30s]
- Fall Damage Immunity [20s]
- Unbreakable Lockpicks [60s]
- Pickpocket Equipped Items [60s]
Alteration
x
Archery
x
Block
x
Conjuration
x
Destruction
x
Enchanting
x
Heavy Armor
x
Illusion
x
Light Armor
x
Lockpicking
x
One-Handed
x
Pickpocket
x
Restoration
x
Smithing
x
Sneak
x
Speech
x
Two-Handed
x