A Simple Guide to a More Immersive Skyrim

Easily the best thing about Skyrim, and the one thing keeping us playing years after its release, is immersion. And one of the greatest benefits of mods is being able to go beyond the limits of the vanilla game, and create a vastly more immersive world. So for those of you new to modding, here is a quick list of some of the mods I use to do just that.

These mods have an overall low impact on performance, so even if you're using a potato like me you should be able to run these just fine. Without further delay, here is my list broken down into categories.
Cities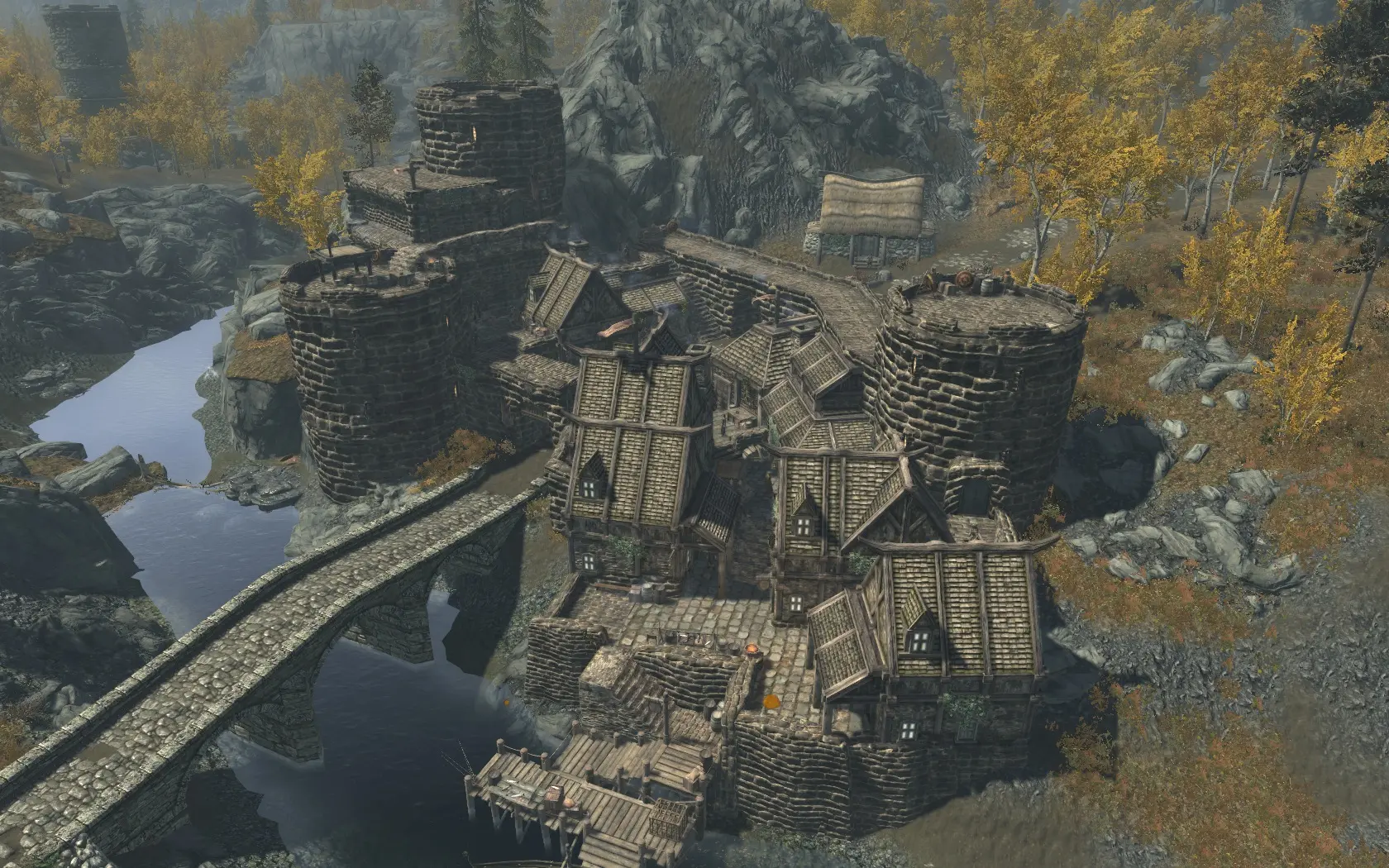 One of many lore friendly locations added by the 'Legendary Cities - TES Arena' mod

Its no secret that Skyrim feel a bit lacking in detail. This flaw is most apparent within the major cities, where its clear the cities don't live up to what is established in lore. Gone are the many cities and forts of TES: Arena, and many holds and settlements lack a distinctive feel to them. If you've ever felt that "been there, done that" feeling while traveling through Skyrim, these mods will make exploring exploring fun again.
---
---
Population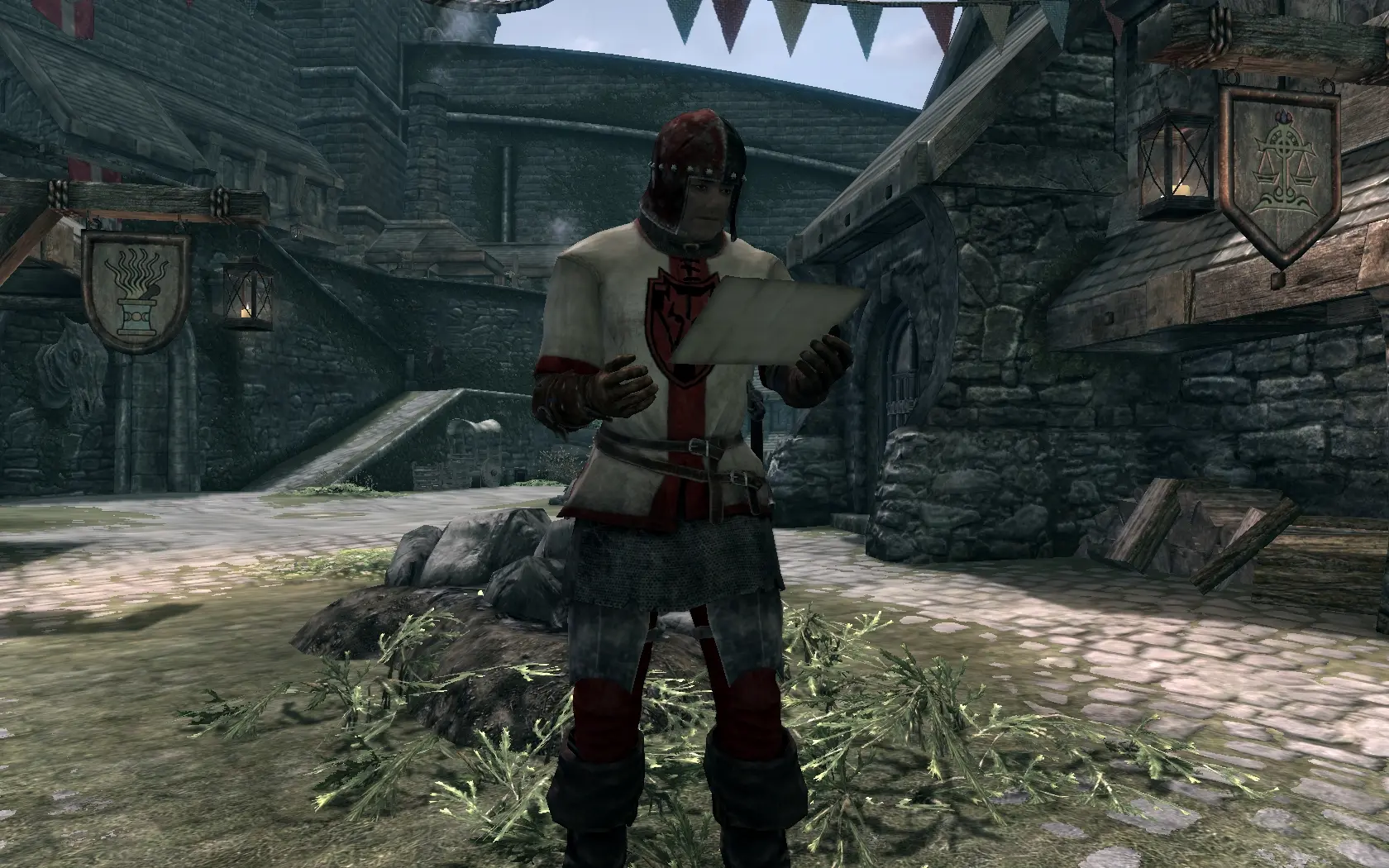 A town crier in Solitude courtesy of Inconsequential NPCs

Vanilla Skyrim has a population so small, one is left wondering how its holds manage not to be overrun by the considerably larger number of bandits in the wilderness. Each hold feels almost like a ghost town but these mods aim to fix just that, and when combined the holds will actually look and feel vibrant and populated.
Civil War
A massive battle erupts in the fields of Skyrim

Isnt it strange how little fighting actually goes on in a province locked in a bloody civil war? One can go from one end of Skyrim to the other and never encounter even a minor skirmish. You wont even see the aftermath of any battles in your travels. Nope, just pristine fields from one end to the other. Its as if the civil war exists only as a distant after thought. Here are some mods that aim to bring a much needed sense of realism to the the civil war.
Player Character

No longer will you stare dead ahead like an emotionless killing machine

One issue I have with vanilla Skyrim is how detached the player character appears to be from the world he inhabits. For those deeply invested in roleplay and immersion, I have no doubt it bothers them to watch their characters stare blankly ahead while conversing with NPCs. Its just hard to feel like your character blends in with the world when they stare dead ahead like an emotionless killing machine at all times. Here are some of the mods I use to help my character blend in more.
__________________________________________________________________________________________________
__________________________________________________________________________________________________
NPCs & Interaction
Speech has such limited use in the vanilla game. With Immersive Speechcraft you'll be able to flex your speech skill with virtually anyone.

The base game leaves so much to be desired in terms of interaction with NPCs, and this typically makes it difficult, if not impossible, to truly step into the role of various archetypes. NPCs themselves act in many immersion breaking ways. One would not expect a farm hand to go head to head agains an elder dragon or master vampire, yet they and other far from qualified citizens will brazenly throw their life away. The mods here are aimed at giving the Speech skill actual uses and reprogramming NPCS to act more realistically.
Weather & Atmosphere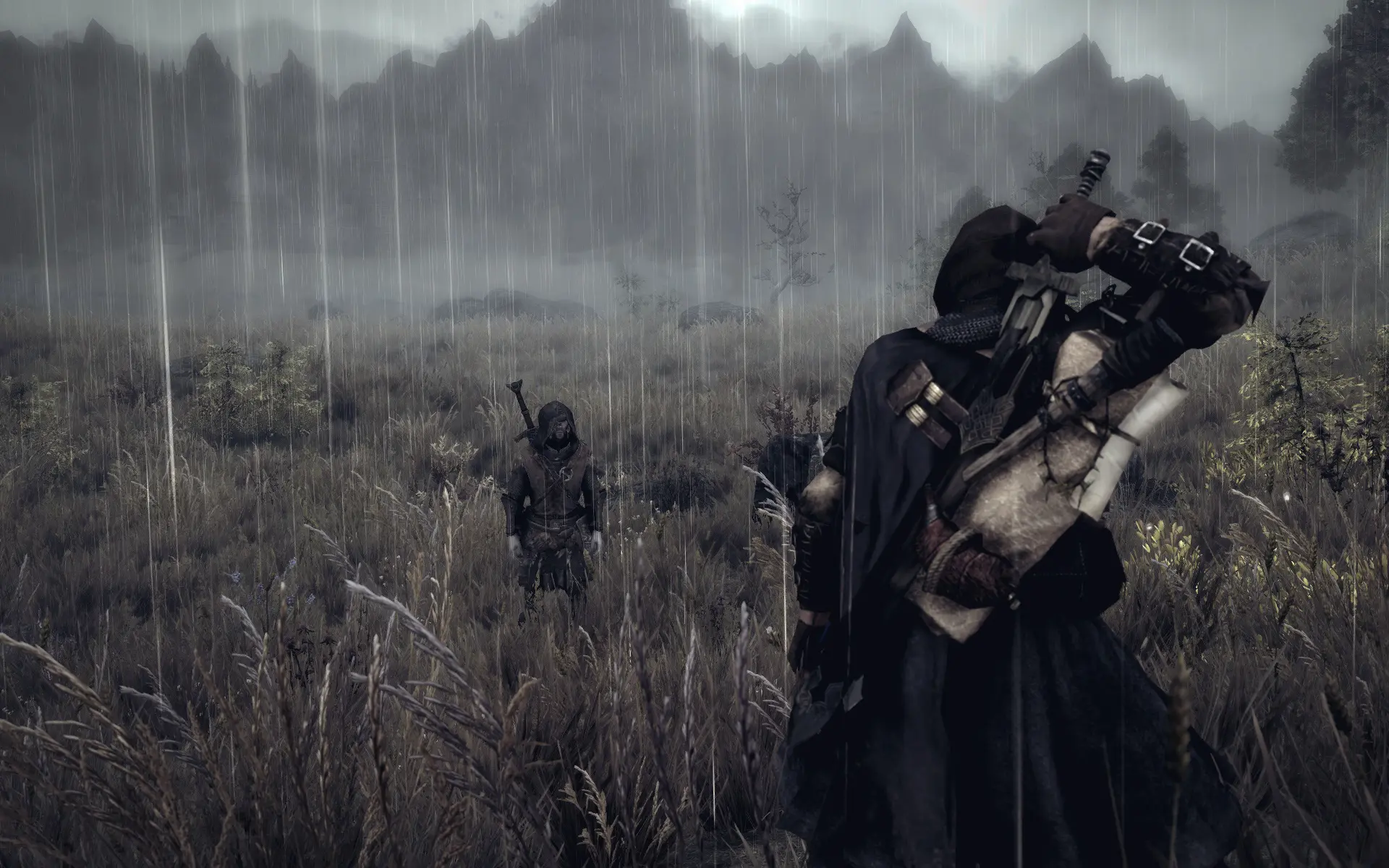 True Storms helps create some awesome scenes

Despite their flaws, one thing Bethesda is quite good at is creating a superb sense of atmosphere. In my own adventures I often find myself sitting back and watching a sunset or a snow storm. These mods aim to increase your sense of immersion by making climate and weather effects even more epic.
Survival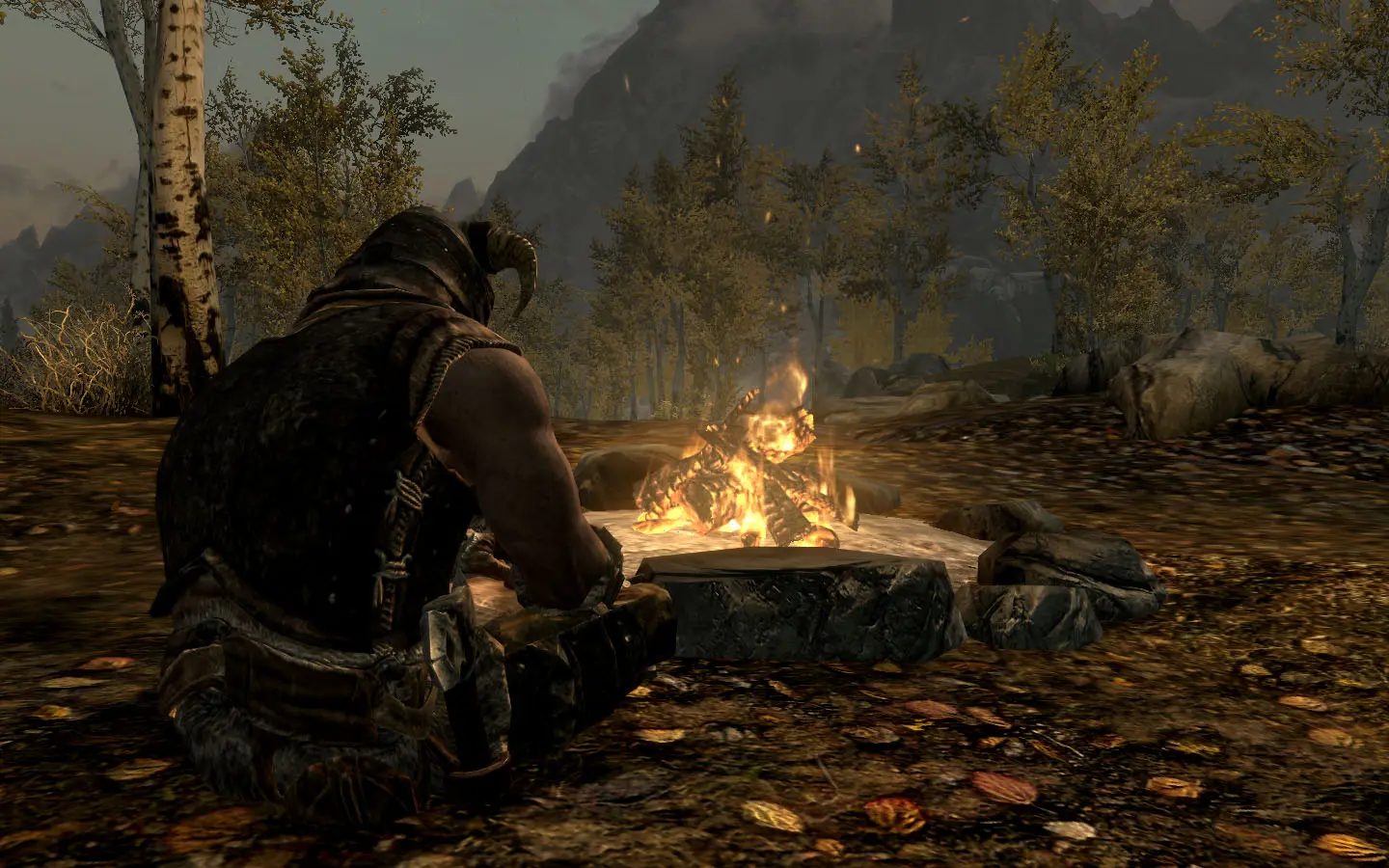 Beware Dragonborn. Bandits and draugr arent the only things out here that can kill.

Playing a survivalist or hunter in Skyrim can be a rich and immersive experience. Unfortunately the vanilla game's limitations hamper one's ability to truly feel like they're truly surviving out in the harsh wilderness. One could commit their character to eating and sleeping regularly, but the experience hardly feels genuine given the fact that none of those things are essential to staying alive. One can go the entire game without so much as a quick water break, and nothing's more immersion breaking than that. These mods aim to insert some much needed survival mechanics into the game.
Crafting
Crafting is seen by many as a chore, and rightfully so. When one considers the tedium of Skyrims crafting system, its no wonder no-crafting builds continue to be so popular. Tedium aside crafting lacks a sense of immersion, as anyone whose made 10,000 iron daggers in pursuit of daedric armor could tell you.
Field Alchemy - This mod is for the alchemists out there who would like to practice alchemy at any time during their travels. Now you can create potions and poisons at any time as long as you have your trustworthy mortar and pestle with you. The mortar and pestle can be bought in any apothecary, and the efficacy of concoctions made without the use of a full alchemy lab can be adjusted via the MCM.
Alchemists Have Ingredients - Alchemy shops are seriously under-stocked with ingredients making it next to impossible to actually craft a handful of potions you want. This mod changes the level lists so all ingredients that are normally for sale are always for sale and in much larger quantities depending on which version you use.
Honed Metal - NPC Crafting & Enchanting Services - It has always bugged me to no end that blacksmiths & enchanters are nothing more than glorified vendors. Skyrim is a land of Blacksmiths. The Nords are praised for their legendary crafting skills and yet, for all of this, not a single smith in this game will bother to craft a shoehorn for you. The College mages say enchanting services are among the few things that keep them in touch with the rest of Skyrim, yet they offer you no service. This mod makes these services available and the quality of their work will be based on their crafting skill and not yours.
Harvest Overhaul - Have you ever wondered what happens to the other two Deathbells after you harvest it, or five Nightshades, or a dozen of Mountain Flowers? Where do they go if you only harvest one, does the Dragonborn throw them on the floor and walks away? Do you want to get an appropriate amount after you harvest flora, but at the same time keep the game balanced? If yes, then this is the mod for you.
Death
We all have to die eventually....

Chances are you're nowhere near as good at Skyrim as I am, which means death will catch up with you eventually. Even at this grim moment, there's no reason why the immersion should be broken. Rather than simply reloading your last save when you get killed (how very video game like), these mods aim to greatly expand upon what happens to you when you're defeated in battle.
Crime & Punishment
Now you can relive your favorite scenes from Oz

Lets face facts here. Crime and punishment are implemented very poorly in the vanilla game. A bounty of 1000 gold for cold blooded murder? Are you kidding me? Either 1000 gold is actually an obscene amount of money, or the province of Skyrim places very little value on the lives of its citizens. In any case there isnt anything remotely immersive about how crime is dealt with in the vanilla game. These mods aim to change all that.
Sounds & Music
Combat should sound as visceral and as terrifying as it looks

Bethesda does a relatively good job with sound effects and music. But as always, anything Bethesda can do, some kid in his basement can do better. These mods aim to increase immersion by overhauling Skyrim's sound effects and musical scores. The result is a far more realistic and enjoyable experience. Don't be surprised to find yourself sitting back and taking in the awesome new music tracks and ambient sounds.
___________________________________________________________________________
____________________________________________________________________________

Visual Effects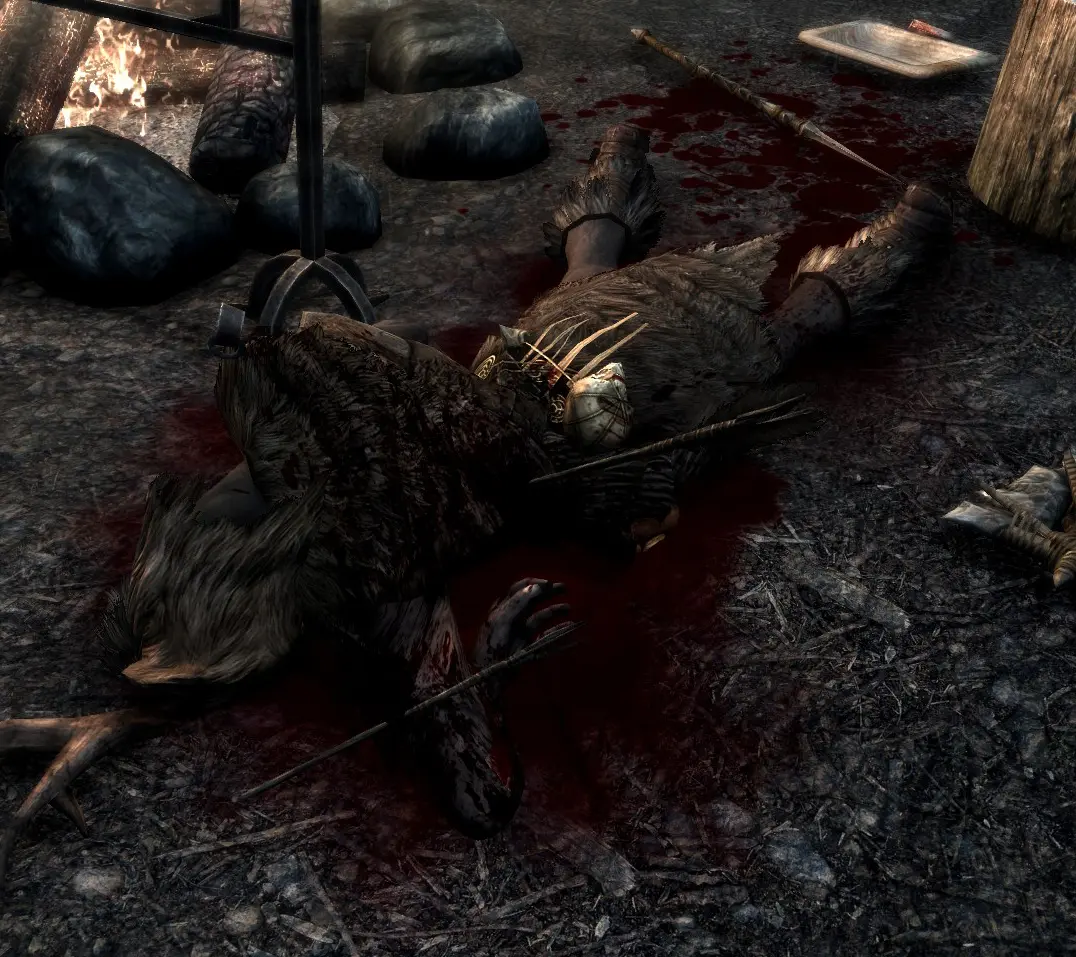 The only good Forsworn is a dead one.....

I've always felt certain visual effects in Skyrim were lacking, particularly those surrounding combat. My greatest disappointment lies in the vanilla enchanted weapon effects, which were no where near as visually appealing as I thought they'd be the first time I tried enchanting. Aside from prettying up enchantments, these other mods aim to make battles look bloodier and more brutal.
Factions
New and improved Arch-Mage quarters from the Immersive College of Winterhold mod

Factions are a large contributing factor to a solid role play experience. The factions your character chooses to join is in large part a representation of who that character is. Unfortunately one of the major vanilla complaints is the lack of immersion in many quests, particularly faction quests. Some have terrible pacing. One shouldnt be able to go from whelp to harbinger in a single week. Other quests just lack any real choice along the way. These mods aim to fix all that by changing some key aspects of the major faction quests. The Civil war wont be included here since it's already been covered.
"I have always played Elder Scrolls games as a mage/ spell-sword and Skyrim was no different but, likely from having been spoiled with the splendour of the Arcane University in Oblivion, I was disappointed with the messy, dilapidated interiors of the College and it's magically-clueless inhabitants (so-called 'masters' defending themselves with flames and fire-bolt an other such un-immersive annoyances).

This mod attempts to bring some of that missing grandeur, magic and mystery to the College by adding a variety of new objects, activators, locations and books as well as improving the magical aptitudes of the faculty members and introducing a tutoring system through which you may learn directly from the masters as they teach; now the Mages of Winterhold really do "gladly share knowledge amongst themselves".
'
Quests & Roleplay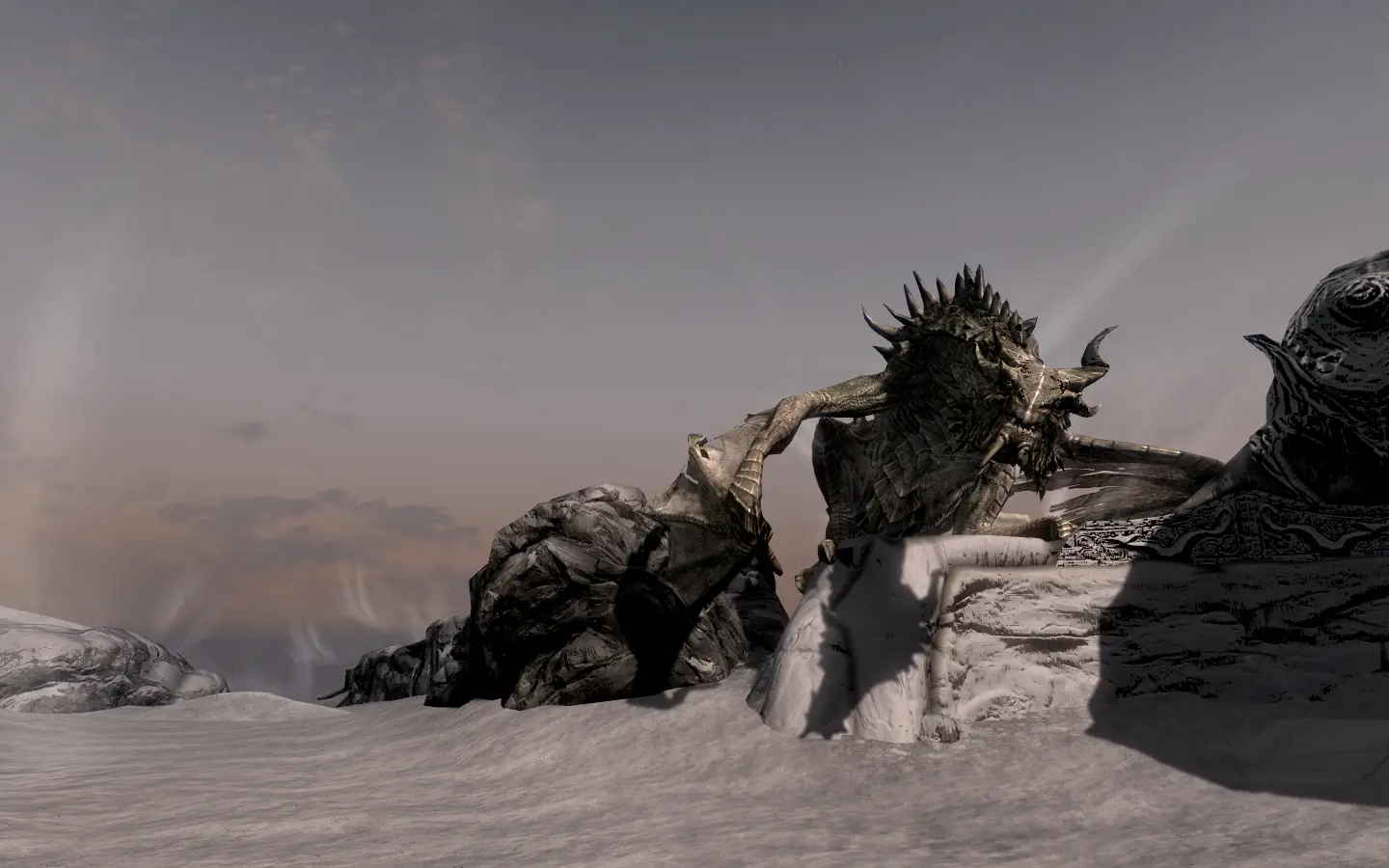 Your character is defined by the choices you make. A good quest never denies you the ability to choose.

Nothing breaks immersion quite like your character being forced to make decisions that go against his morals. Being forced to into a single choice is an unfortunate reality that pushes you away from quests that would otherwise be quite valuable for your character's personal progression. Worse is being forced to begin as a prisoner bound for execution. While the Helgen start is far from the most restrictive beginning, one is stuck having to reconcile their character's backstory with how the game begins.

This list will keep growing over time, so check back periodically for updates. You can help me by referring me to other immersive mods I may have missed.